YES: SWOP Behind Bars will be in Las Vegas for the 2018 Women's March.  See you there! 3sexworkiswork
What is the 2018 Somen's March LV?  Well – Here is a super fab re/blog from Romper on the hot to know:
https://www.romper.com/p/is-there-a-2018-womens-march-in-las-vegas-heres-what-you-need-to-know-7852262
By 
Korey Lane: 
On Jan. 21, 2017, the world was forever changed when hundreds of thousands of women took to the streets to stand up for their rights at the first-ever Women's March on Washington. And it's happening again this year, with marches taking place across the nation, including 
a 2018 Women's March held in Las Vegas
, Nevada. A lot has changed this past year, but activists are still fighting and the organizers behind the Women's March are bringing their fighting power all over the country this year. So if you live near the city and want to participate, you should definitely start planning.
Not only will there be another Women's March this year, but the Las Vegas location will also launch the next agenda item for the Women's March, known as #PowerToThePolls. And it will all go down on Jan. 21, 2018 at Sam Boyd Stadium, starting at 10 a.m. lasting until about 4 p.m. If you're interested in participating, you can RSVP on the event's website. (You can also make a donation if you feel so obliged, although admission to the march is free.) According to the event's Facebook page, about 2,400 people are marked as "going," while another 5,700 are down as "interested." But that number could go up, considering that over 50,000 people showed up for the Women's Convention in 2017. So don't be surprised if you're in Vegas and traffic is stalled a bit.
Join us January 21st in Las Vegas for the official Women's March anniversary event kicking off our year-long #PowerToThePolls campaign to win in 2018! Get info, register & donate here: http://powertothepolls.com 
Twitter Ads info and privacy
Now that an entire year has passed since the first Women's March on Washington, the organizers of the event want all of those who participated to come together once again. And while the focus of this year's event won't be so heavily in tune to the Trump administration, it will take aim at voter's rights getting more and more people registered to vote. According to the Power To The Polls' website:
And it will all kick of in Las Vegas this year, but if you can't make it for the big event, not to worry! The organizers of the march are confident that the smaller events in other cities around the world will hold the same feeling of empowerment as the main event in Nevada. And you can find some of those local events on the Women's March website.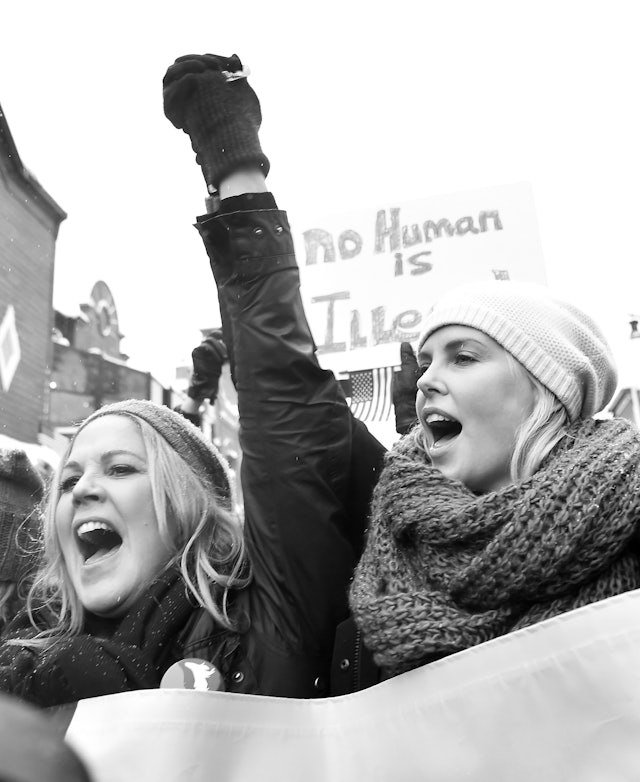 Many naysayers have commented that the Women's March was a one hit wonder of sorts, and that the organizers would never be able to see so much success again. However, people shouldn't really ever doubt the determination of a woman, should they? Or hundreds of thousands of women coming together to tell the current administration that they won't go away, huh?
But, it has been almost a year since the inaugural Women's March, so in case you forgot how it all went down allow me to fill you in. On Nov. 9, 2016, the night after Donald Trump was officially elected as the 45 President of the United States, one woman had an idea. According to The Los Angeles Times, Teresa Shook decided to get the movement started:
From there, the Women's March has blossomed into a large, powerful organization that is committed to standing up for women's rights. So, whether you're in Las Vegas, Nashville, or Munich, you'll be able to participate in another event that is sure to be historic.